MIAMI DESIGN DISTRICT ART GALLERIES
Guide to art galleries located in the Miami Design District of Miami, Florida. These art galleries feature contemporary art as well as traditional fine art, glass art, paintings, sculpture, fine art photography, prints and other types of visual art. Several of these Miami galleries also, specialize in Latin American art. If you're interested in collecting art or just enjoy viewing it, we suggest that you head to the Design District and you'll have a great experience. Also, the Miami Design District is known for it's outdoor public art and architecture.

Art-Collecting.com provides comprehensive and easy to use gallery and art guides on the Internet. Our guides are created to help you easily discover art in various art communities whether you're visiting them, planning a visit, or living in them. Click on Art Gallery Guides in the top navigation and you'll find art guides for every state and thirty-seven major art cities. Each guide is divided into sections and organized in geographic locations. Links take you directly to the listed art businesses where you can quickly see what showing and going on.

For the past 24 years, we've been providing art guides on the Internet, and most are similar to this guide. We do it because galleries, museums, non-profit art organizations, and artists are important, please support them whenever possible.

For this guide to continue, gallery and art organization support is needed. If you have listed in the past, thank you, please renew. If you've never officially listed with us please do so today. Listing information can be found in "About Us" in the top navigation. Individuals can also help by sharing our site with art friends and in Social Media, thanks in advance, it would be much appreciated.


OTHER MIAMI GALLERIES
Allapattah | Brickell / Downtown | Design District | Little Haiti / Little River
Little Havana | Wynwood | Other Miami Art Galleries

MIAMI AREA ART GALLERIES
Coconut Grove | Coral Gables | Miami Beach

MIAMI & MIAMI BEACH ART FAIR GUIDE
Focus on Miami Art Week, first week of December.

---
MIAMI DESIGN DISTRICT GALLERY GUIDE



Rosenfeld Gallery
A secondary market gallery in the Modern and Contemporary Masters sector. The gallery was founded in 1970 and located in New York before moving to the Miami Design District in 2020. Rosenfeld Gallery provides our clients with a broad range of services including; advisory, market analysis, placement, and restoration advisement, and appraisals. For each work of art, our expert staff conducts thorough research and prepares, documentation, provenance, exhibition history, condition, and literature. With the opening of our new Miami location, we look forward to welcoming you, and offering the same standard of excellence that our New York Gallery patrons have come to expect. Location: 112 NE 41st Street, Miami, FL 33127, telephone: 305-200-5710 website: https://www.rosenfeldgallery.com/


Art Angels
David Castillo
Galeries Bartoux
Mora Studio + Gallery
Opera Gallery
The Office

---
DESIGN DISTRICT ART ORGANIAZTIONS & OTHER ART SPACES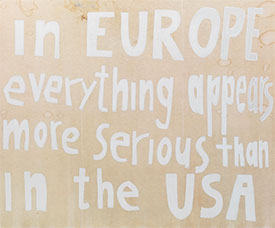 INSTITUTE OF CONTEMPORARY ART, MIAMI (ICA Miami)
4040 NE 2nd Avenue, Miami, FL 33137 (Design District), 305-901-5272
This is a free museum, but you need to reserve a visit time online.
Miami Art Week Hours: Special hours 11am - 6pm.

* Michel Majerus: Progressive Aesthetics, November 28 - March 12, 2023
* Nina Chanel Abney: Big Butch Energy, November 28 - March 12, 2023
* Hervé Télémaque: 1959–1964, November 28 - April 30, 2023
* Jiang Cheng, November 28 - May 7, 2023

ICA Miami presents "Progressive Aesthetics," the first US museum survey for Michel Majerus, which explores the late artist's prescient work by taking up his rich and varied interpretations of capitalism and cultural imperialism as they relate to art in American culture. Created at the threshold of the twenty-first century, Majerus's works expound on themes of transformation and are characterized by a fascination with speed, openness, and transmission. The artist's works explore his passion for technology, youth culture, and art history—all united by his obsession with the power of art and institutions. November 28 - March 12, 2023


------------------------------------------------------------------------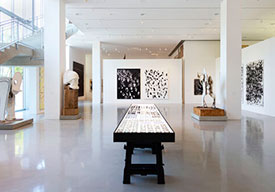 The de la Cruz Collection
23 NE 41st Street (Design District), Miami, FL 33137, 305-576-6112

* Together, At The Same Time - Current Exhibition

In the late 1980's, Rosa and Carlos de la Cruz started collecting from their home which they opened to the public by appointment only. From 2001 to 2007, Rosa founded and chaired the non-profit Moore Space, a kunsthalle located in the Design District. It was then that Rosa and Carlos started planning and building the present de la Cruz Collection on 41st Street, a 30,000 square foot museum which opened in 2009. The de la Cruz Collection is a private museum and is not government funded, admission is free. Visit their website for more information.


Design District Public Art
The de la Cruz Collection
Haitian Heritage Museum
Institute of Contemporary Art Miami (ICA)
Juan Carlos Maldonado Art Collection (JCMAC)
Locust Projects

---

MIAMI ARTIST WEBSITES
Monokrush - Photography
Susana Falconi - Paintings
William Hough - Photography
Keith Knight - Photography
Maria Sonia Martin - Paintings



ART CONSULTANTS, ART ADVISORS AND PRIVATE DEALERS
Adamar Fine Arts
Alfa Gallery - Art Advisory
The Americas Collection (Coral Gables)
Art Code Space
Evelyn Aimis Fine Art
InterFlight Studio Gallery



MIAMI APPRAISERS, FRAMING AND OTHER ART SERVICES

MGF Appraisals, LLC
Monica Fidel, ISA CAPP
Certified Member of the International Society of Appraisers
Insurance coverage, Insurance claims, Estate and Probate, Divorces, Charitable donations, Bankruptcy.
Furniture, fine art, antiques, collectibles, glass, silver, porcelain, residential contents.
1018 SW 43rd Avenue, Miami, FL 33134, telephone: (305) 776-6481
monica@mgfappraisals.com
https://www.mgfappraisals.com/


Tara Ana Finley, ISA, AM
Anubis Appraisal & Estate Services, Inc.
Appraisals of Antiques, Paintings, Prints, Decorations, Silver, Jewelry, Latin American Art, Collectibles, Tribal Art, and Antiquities for Insurance, Donation, Divorce and Estate and Probate Purposes. Auctions and Estate Sales of Antiques and Personal Tangibles. Art Brokerage of specific art works. Art Consultant. Credentials: 30+ years experience with Sotheby's, Christie's and Phillips, Accredited member ISA, USPAP 2006 Certified. Past Antiques Roadshow Appraiser. 3500 Ponce de Leon Blvd. Suite 2, Coral Gables, FL 33134, telephone: (305) 446-1820
tarafinley@anubisappraisal.com


AA Fine Art (Appraisals & Collection Management)
E. Linda Poras, Fine Arts Appraiser
FAAM - Fine Art Auctions Miami
Susana Falconi Art Inc. (Art Restoration)
MGF Appraisals, LLC






Zatista Contemporary and Fine Art
Is the leading destination to buy original art online, giving you unrivalled access to exclusive collections from all over the world. With over 4000 highly curated works from the most talented emerging and established artists, Zatista provides access to the types of works previously only available to seasoned collectors. Buying online with Zatista is easy with their complimentary art consultation, certificates of authenticity and a buyer guarantee that allows you to try art in your home with free returns (as well as free shipping within the US for all purchases). Their platform makes it fun to discover art you love, with an experience so unique it's like you are right there in front of it. Browse the collections



MIAMI GALLERY GUIDE

FLORIDA GALLERY GUIDE

PALM BEACH GALLERY GUIDE

MIAMI ART FAIR GUIDE

FLORIDA ART MUSEUMS AND ART CENTERS

ART GALLERY GUIDES FOR OTHER LOCATIONS
Gallery guides for every state and thirty seven major art cities.


---

About Art-Collecting.com

Art-Collecting.com is an online resource for all art enthusiasts. Art collectors, art travelers and artists will find our comprehensive online Gallery Guides and Museum Guides to be very useful. We feature guides for thirty-seven major art destinations as well as every state. Be sure to look at our Art Fairs Guide and our guides to Miami Art Week and New York Art Fairs and Los Angeles Art Fairs which are up online year around.

If you're looking for Art Appraisers, Art Advisors & Consultants, Art Auctions or other Art Services we're a good source. Our Artist Guides is where you find links directly to artist websites. Our Painters and Photographers guides are very popular. You'll discover new artists and that you can buy directly from or be referred to galleries representing their art.

Thanks for stopping by Art-Collecting.com.
Visit our website often and be sure to explore around.
https://art-collecting.com


---

Home | Art Gallery Guides | Museums & Art Centers | Art Appraisals | Art Fairs

Collecting Information | Types of Collecting | Art News | Advertising | How to be Listed

---

Terms of Use | Privacy Policy | Contact

Copyright 2023 by Art-Collecting.com All Rights Reserved