HOUSTON ART GALLERIES
Art gallery guide for Houston, Texas. The art galleries represent a wide variety of artworks ranging from contemporary art to traditional fine art, prints, paintings, sculpture, western and southwest art, fine art photography and other types of visual art. If you're interested in collecting art or just enjoy looking at fine art, visit these art galleries of Houston.

Art-Collecting.com provides comprehensive and easy to use gallery and art guides on the Internet. Our guides are created to help you easily discover art in various art communities whether you are visiting them, planning a visit, or living in them. Click on Art Gallery Guides in the top navigation and you'll find art guides for every state and thirty-seven major art cities. Links take you directly to the listed art businesses where you can quickly see what's showing and going on.

For the past 24 years, we've been providing art guides on the Internet, and most are similar to this guide. We do it because galleries, museums, non-profit art organizations, and artists are important, please support them whenever possible.

For this guide to continue, gallery and art organization support is needed. If you have listed in the past, thank you, please renew. If you've never officially listed with us please do so today. Listing information can be found in "About Us" in the top navigation. Individuals can also help by sharing our site with art friends and in Social Media, thanks in advance, it's much appreciated.

---
HOUSTON GALLERY GUIDE

Arts District Houston
Ellio Fine Art
GSpot Contemporary Art Space
Nicole Longnecker Gallery
Art Organizations & Other Art Sites
14 Pews
Amon Carter Museum
Arts District Houston
Art Alley at Sawyer Yards
Texas Photographic Society
Sculpture Month Houston


Downtown / Midtown
David Shelton Gallery
Gallery Sonja Roesch
Inman Gallery
Reeves Art + Design
Serrano Gallery
Art Organizations & Other Art Sites
Community Artists' Collective
Heritage Society at Sam Houston Park
O'Kane Gallery @ U of Houston Downtown


Museum District / River Oaks





Art Of The World Gallery
The Gallery provides a modern and contemporary, sophisticated and enriched cultural experience to art enthusiast and collectors from all around the world. Directly representing some of the most important living artist from Asia, Europe, Latin America and United States; such as Fernando Botero, Feurman, Vari, Park Eun Sun, Larraz, Toral, Jimenez Deredia, and Mr. Brainwash along with several others. Art of the World Gallery is one of the most prestigious galleries in the state, located in Houston's finest hotspot for locals and tourist. Open Monday through Saturday, 10:00 AM through 7:00 PM. Location: 2201 Westheimer Rd. Houston, TX 77098, telephone: 713-526-1201, email: Info@ArtoftheWorldGallery.com website: https://artoftheworldgallery.com/


Anya Tish Gallery
Archway Gallery
Bill Arning
Barbara Davis Gallery
Catherine Couturier Gallery
Dean Day Gallery
Devin Borden Gallery
Dimmitt Contemporary Art
Foltz Fine Art
Foto Relevance
Heidi Vaughan Fine Art
Hooks-Epstein Galleries, Inc.
Jack Meier Gallery
Laura Rathe Fine Art
McClain Gallery
Moody Gallery
Nancy Littlejohn Fine Art
Sicardi Ayers Bacino
Thornwood Gallery
Art Organizations & Other Art Sites
Art League Houston
Contemporary Arts Museum Houston
Children's Museum of Houston
Czech Center Museum Houston
Diverse Works
Holocaust Museum Houston
Houston Center for Contemporary Craft
Houston Center for Photography
Houston Museum of African American Culture
The Jung Center Gallery
Lawndale Art Center
The Menil Collection
Moody Center for the Arts
The Museum of Fine Arts
The Rothko Chapel

---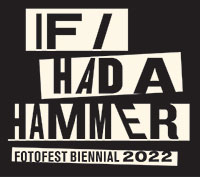 Fotofest Biennial 2022
If I Had a Hammer
September 24 - November 6, 2022

The FotoFest Biennial 2022 central exhibition, If I Had a Hammer, considers the ways artists utilize images to unpack the ideological underpinnings that inspire collective cultural movements around the globe. Together, the twenty-three included artists propose alternative techniques of seeing and engaging with the world, working with both conventional and new media to shed light on the systems that encourage social theories and political imaginaries to become dogma at the click of a shutter or tap of a button. The exhibition borrows its title from Pete Seegar and Lee Hays's 1949 protest song of the same name, which was written as a response to growing ideological divides and violence against progressive artists and thinkers in the U.S. during the era of Red Scare McCarthyism. The FotoFest Biennial 2022 takes place in Houston, at Sawyer Yards in Arts District Houston and throughout the city of Houston. For additional information on FotoFest and events, please visit their website: https://fotofest.org/

---

Other Houston Art Galleries





Halvorsen Fine Art Gallery
Established in Houston Historic Art District, at Sawyer Yards, among 350 Artists Studios, Halvorsen Fine Art gallery with 2,000 square feet features stunning paintings of landscapes and seascapes of impressionistic style. In addition to hosting artist exhibitions, Kenneth Halvorsen provides art consultation services to private and corporate collectors, as well as to designers and avid art enthusiasts. Location: 2101 Winter St. C-2, Houston, TX 77007, telephone: 805-796-7489, website: https://www.halvorsenfineart.com/

Bisong Art Gallery
Deborah Colton Gallery
Gremillion & Co. Fine Art
John Palmer Fine Art
Josh Pazda Hiram Butler
Jumper Maybach
koelsch gallery
Off The Wall Gallery
Redbud Gallery

Art Organizations & Other Art Sites
Art Car Museum
Aurora Picture Show
Blaffer Art Museum (U of H)
Houston Arts Alliance
Orange Show Center for Visionary Art
Project Row Houses
Station Museum of Contemporary Art

---

ARTIST WEBSITES





John Palmer Fine Art
Located on the boulevard in the Historic Heights. The combination of a saved 1930's bungalow with chic, museum-quality new construction is the perfect atmosphere to showcase the vibrant works of artist John Ross Palmer. John Palmer Fine Art is open By Appointment Only. Set an appointment by calling 713-861-6726. We look forward to showing you the beautiful world of John Palmer Fine Art! Location: 1218 Heights BLVD, Houston, TX 77008, website: https://johnrosspalmer.com/



ART ADVISORS, CONSULTANTS & PRIVATE GALLERIES
American Art Resources
Arnoult Fine Art Consulting
Kinzelman Art Consulting



APPRAISERS, FRAMING AND OTHER ART SERVICES
FotoFest
JoMar Visions
Lorraine Anne Davis, AAA, USPAP (Appraisals)
Simpson Galleries (Auctioneers)
Warehouse Frames 'n Gallery (Framing)






Zatista Contemporary and Fine Art
Is the leading destination to buy original art online, giving you unrivalled access to exclusive collections from all over the world. With over 4000 highly curated works from the most talented emerging and established artists, Zatista provides access to the types of works previously only available to seasoned collectors. Buying online with Zatista is easy with their complimentary art consultation, certificates of authenticity and a buyer guarantee that allows you to try art in your home with free returns (as well as free shipping within the US for all purchases). Their platform makes it fun to discover art you love, with an experience so unique it's like you are right there in front of it. Browse the collections



DALLAS GALLERY GUIDE

TEXAS GALLERY GUIDE

TEXAS ART MUSEUMS AND ART CENTERS

ART GALLERY GUIDES FOR OTHER LOCATIONS
Gallery guides for every state and thirty seven major art cities.

---

About Art-Collecting.com

Art-Collecting.com is an online resource for all art enthusiasts. Art collectors, art travelers and artists will find our comprehensive online Gallery Guides and Museum Guides to be very useful. We feature guides for thirty-seven major art destinations as well as every state. Be sure to look at our Art Fairs Guide and our guides to Miami Art Week and New York Art Fairs and Los Angeles Art Fairs which are up online year around.

If you're looking for Art Appraisers, Art Advisors & Consultants, Art Auctions or other Art Services we're a good source. Our Artist Guides is where you find links directly to artist websites. Our Painters and Photographers guides are very popular. You'll discover new artists and that you can buy directly from or be referred to galleries representing their art.

Thanks for stopping by Art-Collecting.com.
Visit our website often and be sure to explore around.
https://art-collecting.com


---

Home | Art Gallery Guides | Museums & Art Centers | Art Appraisals | Art Fairs

Collecting Information | Types of Collecting | Art News | Advertising | How to be Listed

---

Terms of Use | Privacy Policy | Contact

Copyright 2022 by Art-Collecting.com All Rights Reserved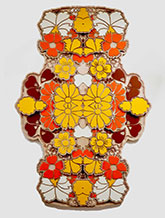 Preston Gaines
Archetypes of Nature
Oct 15 - Nov 12, 2022
Barbara Davis Gallery
Houston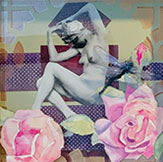 Venus Rising
Recent Paintings and Collages
by Barbara Able
Nov 5 - Dec 1, 2022
Archway Gallery
Houston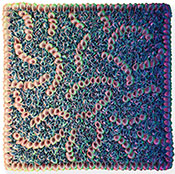 Zhuang Hong Yi
Color Reign
Oct 21 - Nov 16, 2022
Laura Rathe Fine Art
Houston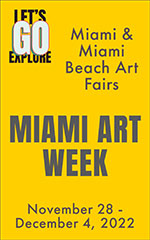 Miami Art Week
Nov 28 - December 4, 2022
Miami & Miami Beach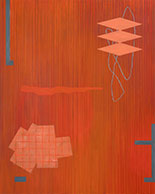 Pat Colville
Jasper Mountain
Nov 5 - Dec 23, 2022
Moody Gallery
Houston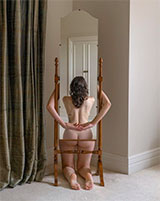 More of You
Oct 14 - November 12, 2022
Including: Brooke Didonato
Anya Tish Gallery
Houston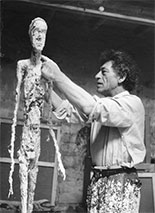 Alberto Giacometti:
Toward the Ultimate Figure
Nov 13 - February 12, 2023
Photo by Ernst Scheidegger
Museum of Fine Arts
Houston, TX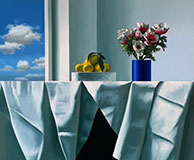 Bruce Cohen
Exhibition
Nov 5 - December 31, 2022
Leslie Sacks Gallery
Santa Monica, CA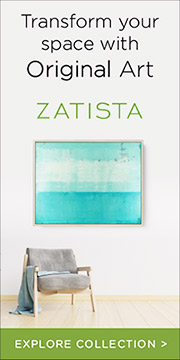 Please follow us and share site and guide with your art friends.